Welcome to G3ZPS Ham Radio.
KW gear operating weekend on the 4th / 5th Jan 2020 organised by Guy G0UKN was very successful, we managed over 200 contacts on AM and SSB with many visitors to the club station to see 6 entirely KW line ups. The founders son Richard attended and operated using his late fathers call G8KW. pics here
First licensed in 1970 at age 16, I am one one of the youngest 'active' UK hams to hold an original 'G3' call sign. In 2020 I have held my callsign for 50 years. These pages include information on my lifetime in the hobby and my retirement passion for restoring valve ham radio equipment (or tubes if you prefer). I have built up a collection of Drake (USA) and the lesser known (outside of the UK) KW Electronics equipment.. My KW pages open out to cover my extensive collection, click on the 'WELCOME' page to get back here. . I'm always willing to help anyone working on old gear..I never know when I might need their help !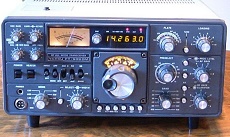 Site Summary
I started collecting and restoring vintage ham radio equipment in 2002, when it became obvious that the equipment may become scarce in the future. My tube equipment collection started with a Drake R4B quickly followed by a Drake T4XB. The Drake collection slowly grew as my enthusiasm to buy waxed and waned. My next target was a UK company close to my heart 'KW Electronics' - and I have been very lucky to pick up some very good examples. A few bits of older Heathkit and Yaesu gear have also been through the workshop !
Look through these pages to see more of the collection and some of the trials and tribulations of keeping this old kit on the air in the 21st century. I also build QRP tube and solid state radios, audio amplifiers, music synthesisers, run my own music studio and play the guitar (a lot!)
Find me on Facebook as ' Steve Shorey' or 'G3ZPS', I have 2 separate pages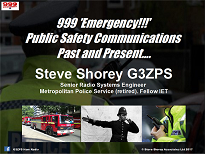 . Pictures of some of my 160m ham radio chums from the 70's here
Also contact me if you would like me to talk at your Amateur Radio Club - my latest presentation is '999 Emergency - Public Safety Communications Past, Present and Future'. This draws from my 35 years of experience in mobile communications and has been constantly updated. Over 3 years I have given this talk at more than 16 Amateur Radio clubs in South East UK. The next is at the Gloucester Amateur Radio Club on May 11th 2020
FISTS CW CLUB MEMBER 18875, SKCC MEMBER N0 19356, VMARS
Email me at steve.shorey@ntlworld.com , Facebook G3ZPS or Facebook Steves Homepage
Please reference me if you use any material from this site - some material is clearly in the public domain but some is my own copywrite (so ideally ask permission first)